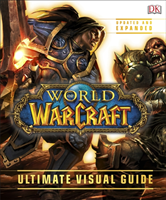 World of Warcraft Ultimate Visual Guide
INBUNDEN, Engelska, 2016
ISBN: 9780241245736 Förlag: Förlagssystem bokimporten
Lagerstatus: Slut i lager
Leverans: Leverans 2-4 dgr
See the World of Warcraft in all-new detail. Discover the worlds epic history in the Chronicles of Azeroth section, explore the stories of its heroes and villains, such as Varian Wrynn and Thrall, and uncover fascinating facts about locations including Orgimmar. This edition is brought fully up-to-date with the latest expansion sets "Warlords of Draenor" and "Legion". An unmissable up-to-date companion for both die-hard fans and newcomers to the World of Warcraft.
258 kr
Artikeln har lagts till i din varukorg
Personalen tipsar.
Boktips:
Grief is the Thing with Feathers av Max Porter.
En jättefin berättelse om en kråka som flyttar in hos en familj i sorg. Som en modern version av Edgar Allan Poe's The Raven.


Elon Musk av Ashlee Vance.
En biografi om mannen bakom PayPal, Tesla, SpaceX, Solar City och kommande Hyperloop.