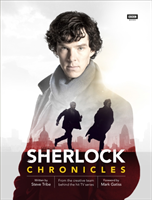 Sherlock: Chronicles
INBUNDEN, Engelska, 2014
ISBN: 9781849907620 Förlag: Förlagssystem bokimporten
Lagerstatus: Slut i lager
Leverans: Leverans 2-4 dgr
A visually stunning and comprehensive guide to the hit BBC series, Sherlock: Chronicles tells the full story of the show as youve never seen it before. Packed with exclusive unseen material, including all-new interviews with the cast and crew, this is Sherlock from the ground up: from story and script development to casting, sets, costumes, props, music and more. Each episode of the spectacular three series is remembered by those who made it, from the shows dazzling debut in A Study in Pink to this years breathtaking finale, His Last Vow. Featuring over 500 images of concept artwork, photographs, costume and set designs, and more, Chronicles is the ultimate celebration for Sherlock fans everywhere.
349 kr
Artikeln har lagts till i din varukorg
Personalen tipsar.
Boktips:
Grief is the Thing with Feathers av Max Porter.
En jättefin berättelse om en kråka som flyttar in hos en familj i sorg. Som en modern version av Edgar Allan Poe's The Raven.


Elon Musk av Ashlee Vance.
En biografi om mannen bakom PayPal, Tesla, SpaceX, Solar City och kommande Hyperloop.